Birth ABT 1843-- Foston, Lincolnshire
Marriage 1867-1-15 The Parish Church, Skirbeck, Lincolnshire
Death 1931-8- Frampton Place, Boston Lincolnshire
Father Unknown
Mother Unknown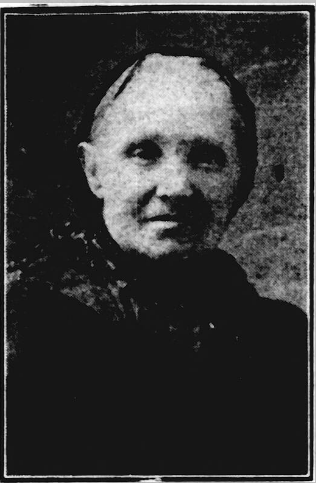 Birth
1843--
Foston, Lincolnshire
Marriage
1867-1-15
The Parish Church, Skirbeck, Lincolnshire
Death
1931-8-
Frampton Place, Boston Lincolnshire
Stories
Boston Lady's Death
1931-8-15
Lincolnshire Standard and Boston Guardian - Saturday 15 August 1931
Her many friends in Boston will hear with regret Mrs. Elizabeth Sharpe which took place on Thursday last at the residence of her daughter, Mrs. G. W. Johns, of Frampton Place. Boston.
A native of Foston, a small village between Grantham and Newark, Mrs. Sharpe came to Boston at early age and lived with Mr. & Mrs. D. Jackson on the Spilsby Road, until her marriage to the late Mr. James Sharpe. She then resided St. John's Road, where Mr. Sharpe carried business as dairyman for forty-eight years. On the death of her husband she removed to Sleaford Koad, and five years later went to live with her daughter, Mrs. Johns, of Frampton Place. She leaves four sons, five daughters, forty-six grandchildren and forty-five great-grandchildren.
The funeral took place Boston Cemetery on Monday, the interment being preceded by a service at the Zion Methodist Church, West Street. The Rev. T. Tims Waylett officiated in the Church and at the graveside.
The family mourners were:—Mrs. K. Johns and Mr. G. Johns (daughter and son-in-law}; Mr. C. H. Christian (brother); Mrs. Bly (sister); Mr. J. E. Sharpe and Mr. Tim Sharpe (brothers); .Mrs. Ward and Mrs. Appleyard (sisters); Mr. and Mrs. J. Sharpe (son and daughter-in-law); Mrs. T. Sharpe and Mrs. Bloomfield (daughters-in-law).
Floral tributes were sent by the following;—Henry, Emma and family; Elizabeth; Louie and family; Ted. Kate and family; Lucy and family (North Shields); George, Kate and family; Tilly, Frank and family. Morley, near Leeds; Tom, Agie and family; Joe, Agie and family; Herbert and Dorothy; Bob and Annie (Grimsby); Harold and Nellie; May and family, Grimsby; Albert, Nellie and family; Vera; all at 48. Frampton Place; Don; Mr. and Mrs. Ramn and family.
The funeral arrangements were earned out by Mr. F. Darby. Mainridge, Boston.
The Allotted Span - And Over
1932-2-2
Boston Guardian - Saturday 02 January 1932
Longevity in Boston and District
Interesting Local Record
Pursuing our usual custom we give below an interesting record concerning longevity in Boston and the surrounding district, and dealing entirely with persons having reached the allotted span – three score years and ten – and over, who have died during the past year.
Our record comprises one octogenarian, a Sibsey lady, who died at the age of 102, fiofteen persons aged 90 years and over, seventy-five aged 80 years and more and exactly one hundred aged 70 years and over
The Persons are:
[…]
August
[…]
Elizabeth Sharp, Boston……87
[…]